BEST PAD™ Pro Therapeutic Exercise Pad
Best Pad™ Pro Therapeutic Exercise Pad is designed to distribute the rider's weight evenly under a thoroughbred half-tree exercise saddle. The pad's shock-absorbing foam reduces physical strains to the horse and provides more uniform cushioning for the rider. Best Pad™Pro Therapeutic Exercise pads are designed to fit most horses comfortably. Best Pad™ athletic equipment retains its beneficial qualities for years of wear.
Price: $200.00
The listed price, in U S Dollars, is subject to change without notice.
Prices do not include sales tax, shipping and handling charges, nor International tariffs.
Best Pad™ Pro Therapeutic Exercise Pads
Slip-resistant: Grip helps eliminate injuries
Contoured to the shape of the horse
Better balance for exercise riders
Extremely durable
Water-resistant
Maximum comfort for horse and rider
Suitable for multi-horse use
Disinfect and clean easily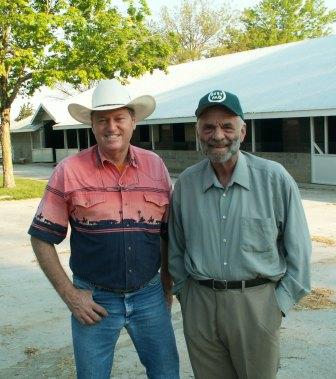 Larry Jones and Dr. Philip Shrimpton, Keeneland 2015
About Best Pad™ Pro Exercise Pad:
"I've been using and loving Best Pad™ Exercise Pads since 1993. They are the best! Great for sore backed horses and to keep horses sound. These pads give trainers a beneficial tool, I use them on every horse in my stable. "
Larry Jones, Multiple Graded Stakes winning trainer
What makes BEST PAD™ Pro Exercise Pad Unique?
Best Pad™ Pro Therapeutic Exercise Pad has orthopedic foam with variable thickness, specifically designed for maximum fit and comfort when training thoroughbreds with medium to high withers using a half tree saddle. To provide stability, the Best Pad™ Pro Therapeutic Exercise Pad is thicker on either side of the withers and in the rear of the pad.
Can BEST PAD™ Pro Exercise Pad be personalized?
Each Best Pad™ is imprinted with our telephone number and web address. Other optional features for all Best Pad™ products include deluxe white lettering or raised black lettering to personalize and identify your pads. Use your name or initials or your horse's name.
Deluxe White Lettering, one inch in height: $2.50 per letter ~~ Raised Black lettering: $1.50 per letter. special logos for stable and association names are available upon request.
Call us today: 1 (859) 865-2536
Copyright © 1999 to 2023 Equine Environmental Consulting, Inc.
Last modified: January 14, 2023