CONDITIONING WEIGHT, ENDURANCE WEIGHT and STEEPLECHASE PADS
---
INTRODUCTION TO SAFETY PADDING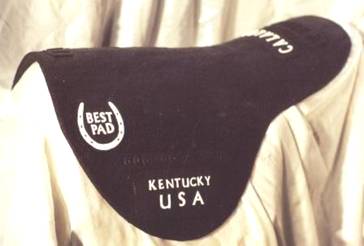 BEST PAD™ Race Weight Pad

Rubber, felt, high-density flexible weight

We are proud at Best Pad™ to say that our saddle pads can be found around the world. We are happy to accommodate international customers and we routinely manufacture saddle pads to ship worldwide. We are able to adjust the weights of our pads to the metric system to meet the needs of jockeys and trainers outside the U.S. All race weight products described on our website are available for purchase for international customers.

Contact us with any questions
or to place an order
or for more information and a KG price list, please link to our Race Weight Page.
Personalize your Weight Pads
Each Best Pad™ is imprinted with our telephone number and web address. Other optional features for all Best Pad™ products include deluxe white lettering or raised black lettering to personalize and identify your pads. Use your name or initials or your horse's name. Special logos for stable and association names are available upon request.
Below we have listed prices for the products we provide in grams and kilograms. Please contact us for more information.
BEST PAD™ RACE WEIGHT SHAMMYS
Best Pad™ Race Weight Shammy, developed to help achieve precise handicap weight,is a slip resistant, rubber mesh product embossed with high density, flexible polymer, marking its weight, identifying name/initials and Best Pad™ logos. The international set of four Shammys weight 100 to 400 grams. Our Race Weight Shammy joins the family of fine equine athletic equipment from Best Pad™.
Weight and Grip
The Shammy has dual benefits--weight and grip. For the safety of horse and rider the race saddle needs to stay put. The Shammy was developed to reduce occurrences of race saddle slippage due to a saddlecloth rolling on itself. When saddling for a race, the saddlecloth is folded back on itself. A new, unlaundered saddlecloth has a very slippery surface. Also, saddle clothes of certain fabrics will continue to be slippery even after repeated use and laundering.
Easy to Use
The following protocol for saddling for a race with a Best Pad™ Shammy and Race Weight Pad provides added benefits. Place the Shammy across the horse's withers and back; followed by a Best Pad™ Race Pad; then a saddlecloth that is folded back on itself. Next, the Shammy is folded back over the saddlecloth, sandwiching and securing the race pad and the saddlecloth. Finally, the race saddle is placed on top of the Race Weight Shammy; the saddle girth is tightened, and the over-girth is secured. The Shammy's unique surfaces grip and help prevent unwanted secondary movement.
Call us today: 1 (859) 865-2536
Copyright © 1999 to 2023 Equine Environmental Consulting, Inc.
Last modified: January 14, 2023