CONDITIONING WEIGHT, ENDURANCE WEIGHT and STEEPLECHASE PADS
---
INTRODUCTION TO SAFETY PADDING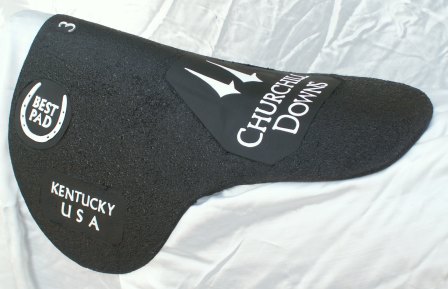 CLEANING AND USE INSTRUCTIONS
Best Pad™ Products are easy to use and maintain. Follow these simple instructions for cleaning and using your Best Pad™ products and you will be very satisfied with the results.
To clean your Best Pad™ Saddle Pad:
Scrub the pad with a hand brush and clean, clear water.
Disinfectant may be added to the wash water, if desired.
Shake off any excess water and pat dry with a cloth or allow to air dry.
AVOID ALL ORGANIC SOLVENTS (i.e., Gasoline, Kerosene, oils).
DO NOT use mechanical ringers or washing machines to clean pads.
WARNING: Pads are water resistant, but not water proof. Submerging pads under water may cause pad to absorb water, temporarily changing its weight.
To tack up using your Best Pad™ Saddle Pad
Place the Best Pad™ directly on the horse's back.
Place the saddle towel on top of the Best Pad™ and fold the towel back on itself.
Place the saddle upon the saddle towel and girth securely.
For Best Pad™ Race Weight Pads:
If using a shammy, place the shammy across the horse's withers and back; followed by a Best Pad™; then a saddlecloth that is folded back on itself. Next, the shammy is folded back over the saddlecloth, sandwiching and securing the pad and the saddlecloth. Finally, the saddle is placed on top of the shammy; the saddle girth is tightened, and the over-girth is secured.
Call us today: 1 (859) 865-2536
Copyright © 1999 to 2023 Equine Environmental Consulting, Inc.
Last modified: January 14, 2023